Part Ten
 Finishing
How you choose to finish (or not finish) each project is totally up to you. You will want to keep in mind the use of the item, however. For example, a trivet to be used habitually for hot casserole dishes is essentially a sacrificial piece between the countertop and the dish. In time and with extensive use, any trivet may discolor and, in some cases, show burn marks. That is to be expected.
Some woodworkers believe that a trivet meant for extended hot use is better not finished with any product at all. This can work, but I personally find that hand-rubbed mineral oil or Danish oil is a great choice for finishing such trivets. It protects the wood and creates a nice, smooth, satin finish that allows the grain of the wood to pop. The other nice thing about using an oil finish is that you can re-sand the piece and add a fresh new coat or two when it begins to show wear from use.
Follow these steps to finish with oil. You can also apply oil with a brush, instead of dipping; the general instructions still apply.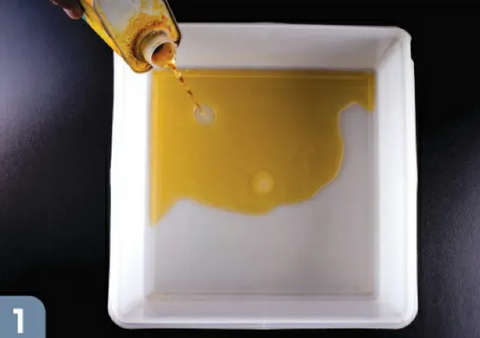 Pour a layer of oil into a large pan; plastic storage containers are excellent to use for this process. Put on gloves.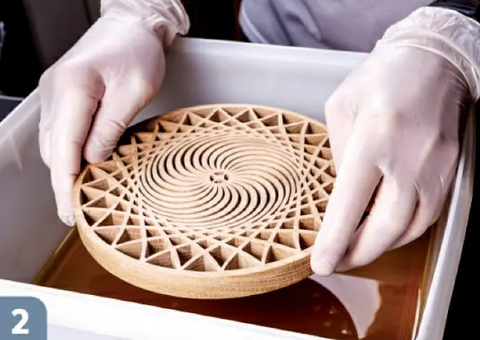 Dip your piece into the oil-filled pan. The oil will spread well and get into those hard-to-reach corners and cutouts that a medium like acrylic paint will not. Allow it to settle into the wood for anywhere from two to ten minutes.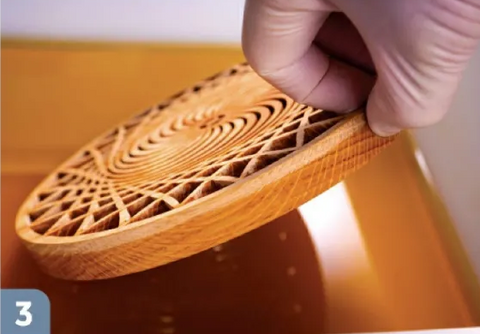 lf your oil bath isn't deep enough to completely submerge the piece, remove it and dip the other side to ensure full coverage. Allow the oil to settle again, then remove the piece from the bath.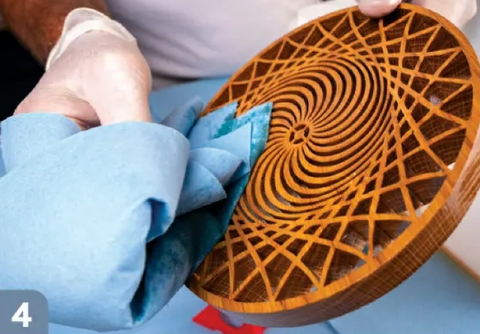 Use a soft cloth or towel to rub off the excess oil. Set the piece on painter's pyramids and allow it to dry for 12 to 24 hours. Repeat the process with a second coat; a third coat may or may not be necessary.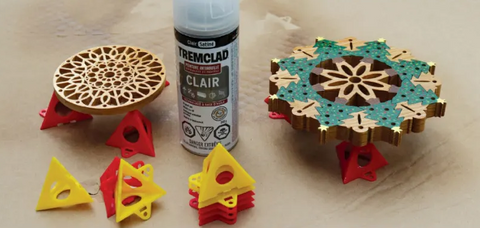 Choose a spray finish that will suit your needs. Use painter's pyramids to prop up your pieces as they dry, and spray on a disposable surface such as the cardboard l'm using here.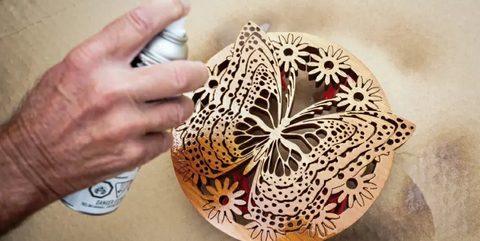 Spray varnishes are easy and quick to apply.
For extra protection, you can add a clear heat-resistant spray or brush-on lacquer. You can also use a clear water-resistant spray or brush-on lacquer when using a trivet as a centerpiece on a table with a flowerpot that might get wet, for example. For trivets designed for outdoor use, apply a clear weather-resistant spray or urethane for UV protection. Make sure to allow any final finish to dry completely before you use the piece.
lf you are placing a trivet or coaster on a tablecloth or a wooden surface, attaching felt or cork spacers/feet to the bottom is advisable. This will help prevent oil from bleeding into the tablecloth if there is no additional lacquer coating, and it also protects the surface from potential scratches. Felt or cork spacers can be purchased at many hardware, dollar, and craft stores. Make sure that the spacers are thick enough to allow a space between the trivet and tabletop surface.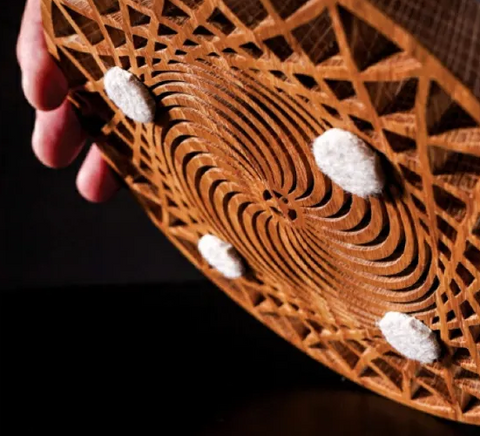 Felt spacers/feet like these add an extra layer of protection to your home's surfaces.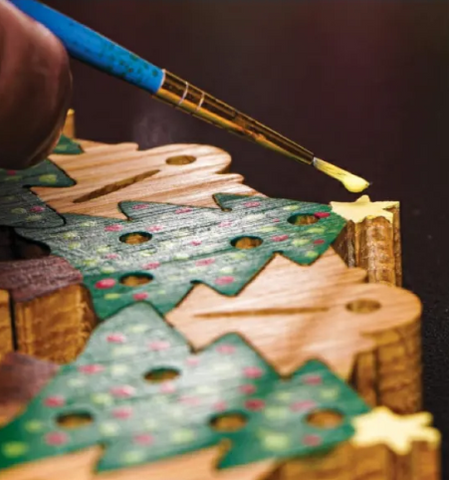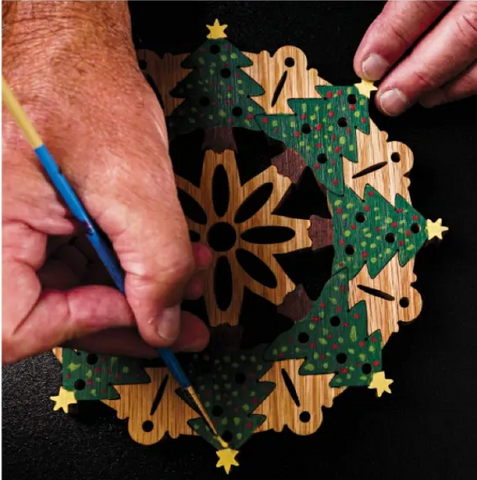 Painting with acrylic paints is an easy way to jazz up a design.
For coaster finishing, l like to apply a wood sealer first, then two or three coats of a spray varnish or hand-painted varnish such as Varathanc or urethane.
When you plan to use a trivet or plaque for decoration and want to add color, acrylic paints are a good choice. You can buy small jars or plastic bottles from any art supply store. Many dollar-type stores carry them as well. Seal the wood first if you wish, or simply apply the paint directly to the raw wood. After painting is all done, I recommend coating the entire piece with a clear lacquer, such as satin or semi-gloss. lf you do not like using spray, use a protective coat of Varathane or urethane. Your local hardware stores will have both, so experiment with finishes to find the ones that work best for you.