Whether you're a professional woodworker or just a hobbyist with some time to spare, you've probably noticed something about the woodworking field – it is filled with many different types of power saws. We will introduce Bucktool 16" scroll saw to you today.
In fact, the "scroll" in this saw's name is even a reference to the scroll work performed by ancient woodcarvers. When it comes to their actual use, though, scroll saws could not be simpler. That's because they are pedal-powered in nature – just like a household sewing machine. As a result, a user always has full control over the speed at which their unit's blade is reciprocating. Scroll saw blades are almost like saw string rather than a traditional flat blade. This allows these blades to be far more maneuverable when making detailed cuts.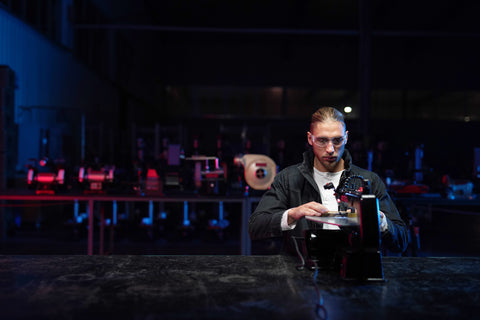 Scroll saws are fairly safe for an experienced user. That's because their foot swith allows a user to turn off the moving blade at a moment's notice. this style of operation makes it easier to control these saws when working through ultra-detailed cuts. Even a DIYer can master the scroll saw with just a few projects' worth of experience. The scroll saw is the preferred option for the most detailed cutting projects because of its exceptional level of control and finesse, scroll saws can create far more ornate cuts.
Remember when you could make intricate and artful cuts? Let the good times scroll with the Bucktool's scroll saw. Scroll saw cuts are far cleaner without the need for sandpaper. And because it's a Bucktool product, your scroll saw comes backed by a one-year warranty, a stocked inventory of replacement parts, and a friendly customer service line, all to make sure you remember Bucktool.