For any machinist or hobbyist manufacturer, getting the right tool is the most important part of any job. With so many choices, it's hard to pick the right one without the proper research.What Is a Drill Press?A drill press, such as Bucktool 10" Drill press, is an upright, fixed machine that travels on the Y-axis to drill holes.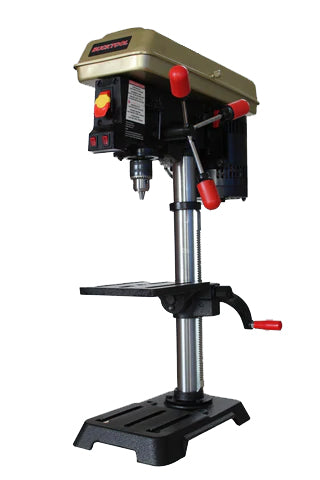 The bit is changeable so you can change the diameter of the holes. It's a hand-operated machine in which you can control how deep you plunge the hole, and how much force you're pushing down with.

A machinist may select to use a jig or fixture on a drill press, to allow them to more-consistently place similar materials for a repetitive job. In a drill press, the material sits under the head of the machine with a vise on top of its table.To operate, a handle is cranked, moving the spinning bit straight down and cutting the material underneath. The operator can change the height of the table.

Visiting any professional machine shop, you will most likely find a drill press. In smaller-scale settings, drill presses, especially benchtop ones, are much more common. Drill presses are used for quick drilling jobs that don't require as much precision, as such drill presses are often used by woodworkers and amateur handymen.