There are a wide variety of tools and saws that may be used in woodworking. In woodworking, scroll saws are generally used for cutting a variety of very intricate shapes, curves and designs.Bucktool 16" scroll saw is designed for very intricate and delicate work. It is excellent for making fine curves and for making a variety of wooden patterns, both on the interior and exterior of workpieces.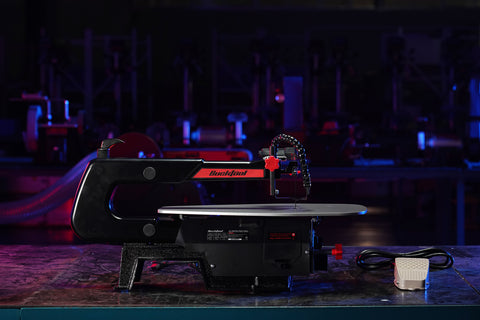 What Is a Scroll Saw? A scroll saw is a very fast moving electric saw that allows for great speed when cutting. The scroll saw features a very small, thin and fine-tooth blade, where the teeth face downwards towards the workpiece. In terms of the action of the blade, it reciprocates, kind of like a jigsaw, which means that it moves up and down at very high speeds. Due to the very thin design of the blade, making very tight corners, curves, and all sorts of designs is made quite easy. They can also be used to make interior cutouts, even at an angle, as the blade angle can often be adjusted.
If you are doing fine, delicate, and intricate work on relatively thin pieces of wood, then it is a scroll saw that you need. It come with its own table and is designed for stationary use and you can rest the workpiece on.
Remember when you could make intricate and artful cuts? Let the good times scroll with the Bucktool's scroll saw. And because it's a Bucktool product, your scroll saw comes backed by a one-year warranty, a stocked inventory of replacement parts, and a friendly customer service line, all to make sure you remember Bucktool.