# 3: Miter gauge difference
The third difference is the miter gauge for accurate wood surface polishing at any angle, BD4603 has a plastic miter gauge while BD4801 has a cast aluminum one to match the large work table of 8" disc for angled sanding of larger wood or lumber.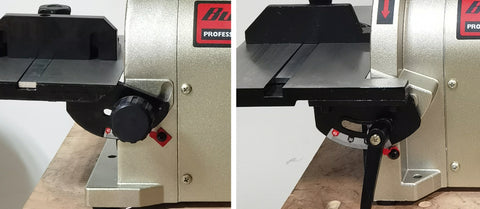 # 4: Handle difference for work table adjustment
The fourth difference is the handle for work table adjustment. BD4603 has a plastic round handle while BD4801 has a ergonomic L-shaped iron handle that is easier to operate.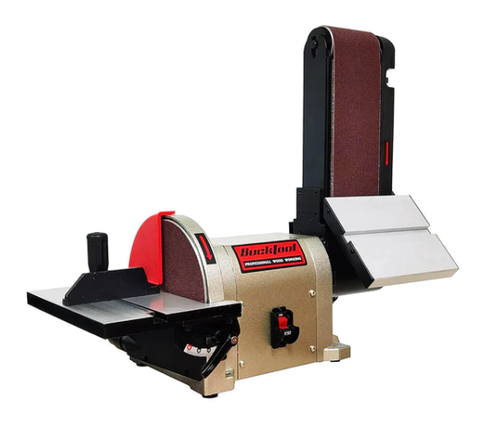 # 5: Safety guard of BD4801
The fifth difference is that there is a red safety guard outside the disc of BD4801 which specially designed to protect users from been hurt during operation.
# 6: Graphite gasket of BD4801
The sixth difference is the graphite gasket used between the belt frame and belt paper, it is specially designed to reduce friction so that the sander can run more smoothly.
# 7: Steel protective cover of BD4801 8" disc
The final difference is that there is a protective cover over the whole 8" disc of BD4801 during delivery so that the machine can reach end users with good quality and nice surface look.
So far, the differences between these 2 sanders should be clear. In fact, you should now be able to differentiate them well enough to decide which you need to add to your workshop in the near term. Both sanders are essential woodworking tools, yet two very different ones. Which of the two you use depends on the task at hand.
If you can afford it, though, you should definitely invest in both. You simply won't believe the difference that a perfectly smoother board can make in perfecting your next woodworking project.