Part One
How is the circular pattern made by scroll saw? Before you start, you need to understand some simple professional terms.
Trivet: A trivet, often madce from various materials such as wood, ceramic, and metal, is used as a sacrificial piece to protect tabletop surfaces from hot casserole dishes, bowls, pots, and the like. There are many alternative names for a trivet, such as rest, stand, support, tripod, pedestal, and platform, to name a few.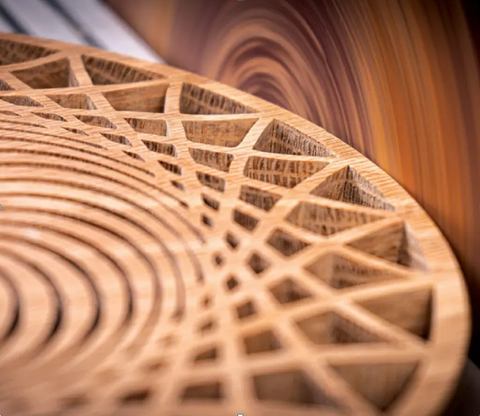 Coaster: Coasters can be made from many of the same materials as trivets, including paper. Paper versions are sometimes called beermats, and they are used to help absorb liquid into the mat or coaster. Because we are using wood, the coasters in this book only serve to help protect surfaces from hot and cold beverages, not to soak up moisture the way a paper coaster might.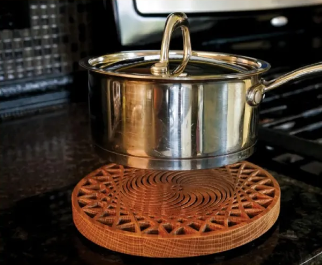 Plaque: Often made of wood or metal, a plaque normally serves as a decorative wall piece or a centerpiece on a dining room table, kitchen table, or buffet cabinet. A plaque can be painted, stained, or simply left as is to showcase the raw wood.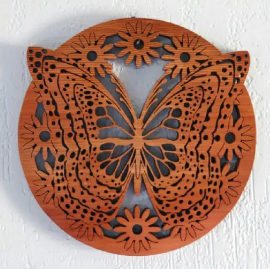 Any of the wood types listed will work fine for trivets that will be used for warm or hot dishes being set on a table for serving, as well as for decorative plaques. Baltic birch plywood is a favorite for many scrollers; l have cut many items using it. A good thickness for a table trivet or plaque is 1/4" (6mm) to 1/2" ( 13mm).A good thickness for coasters is 1/4"(6mm) to 3/8" (10mm), to keep them somewhat low-profile. Many big-box stores carry 1/4"(6mm)-to 3/8" (10mm)-thick hardwoods and softwoods, such as poplar, cedar, oak, maple, and bamboo. Exotic wood stores and family-operated lumber mills often carry many more wood varieties that you can use to make coasters.