Bucktool's 1.2 HP Auto Start Dust Collector has a power outlet for your power tool, just plugin and it will auto start each time when you switch on your tool!
User-friendly design makes dustbag change more Easier and Safer.
All the parts are made of metal, fan blade was balanced which delivers long life, powerful ball-bearing induction motor that supplies the needed power running under load.
It can deal with general-purpose wood, plastics, and other materials. Woodworking operations including surfacing, finishing, sanding, grinding, polishing, and deburring.
It comes on a mobile base which makes for easy maneuverability throughout the shop.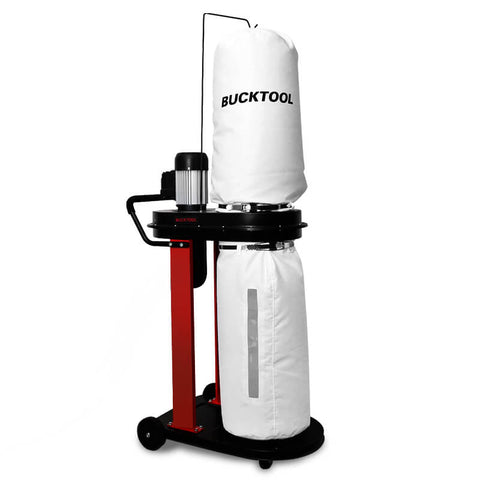 An extraction system such as our DC50, which serves as a chip vacuum cleaner and for dust extraction at the same time, is a kind of large vacuum cleaner that is specially designed for woodworking. Even large wood chips and sawdust that are produced when working with thickness planers, table milling machines and circular table saws.

Anyone working wood machinery without a dust extractor is not only creating a great deal of mess but is also damaging his health. The DC50 is the solution to both these problems providing sufficient air flow to deal with all dust problems. Ideal for the smaller workshop.