Bucktool wood dust collector is designed to capture dust and wood chips from one woodworking machine at a time, such as a table saw, jointer or planer. The air drawn in by the dust collector is filtered through a cloth collection bag that can be removed.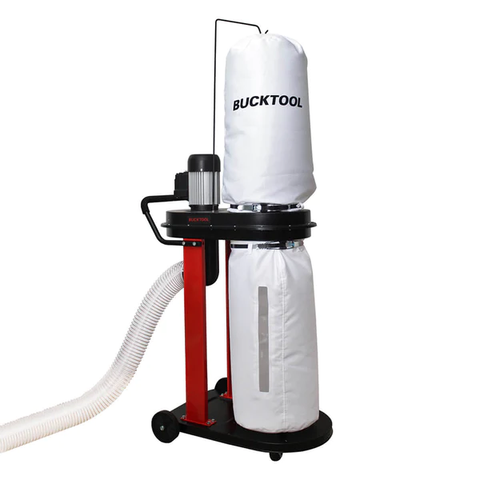 Commonly used Bucktool wood working machines like Scroll Saw, Table Saws, Band Saw, Belt Sander, Disc Sander, Drum Sander, Planer Thicknesser, Drill Press, etc. generate large amount of wood dust particles and these dusts must be properly collected and disposed safely to avoid health hazards to workers. This can be done with the help of Bucktool's dust collectors. With proper selection of dust collector, ducts connecting your woodworking machinery to Bucktool dust collectors will effectively captures all flying wood dustsips in your workshop and Increases product quality and safety of workers.
Features:
1. Flexible hose with multiple adaptor making ideal for use with single purpose machines such as a table saw and equally suitable for all power tools
2. Easy replacement Large capacity dust bag
3. Maximum efficiency with 2.5 micron rating
4. Casters and handles allow the unit to be easily moved around the work area when required
5. Excellent for small workshop
Bucktool provides 2-year warranty for all products, and lifetime customer service, if you have any questions, please feel free to contract us.