A belt disc sander is a robust tool that all woodworkers and DIY hobbyists can trust for their sanding needs. It is used to take off small to large chunks of material from wood quickly. Smoothening, finishing, and grinding are the other functions offered by this tool. To satisfy all these needs, it is equipped with a hoard of woodworking-worthy features. Some of them include a powerful electric motor, varied disc sizes, a belt with abrasive surfaces of different grit levels, and a dust port for all the sawdust.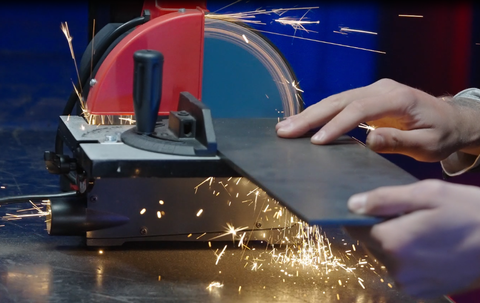 Thus, it becomes essential to have a close look at all of the features as below before purchasing one that could last for an extended period and offer great functionality.
1. Disc/Belt Size
When you're buying a disc sander, one of the most important features you need to consider is the disc size. This refers to the diameter of the actual sanding disc and can range between five to 12 inches with most models between five to eight inches. Smaller discs are ideal for working on projects where you're focused on less surface area. In contrast, a larger disc sander can help to cut down your sanding time. For belt sanders, the most common size you'll find is 4 inches wide by 36 inches long, Bucktool power tools also have optional belts of 1 inch wide by 30 inches long, 1 inch wide by 42 inches long, 2 inches wide by 42 inches long.
2. Materials
No one wants to constantly replacing power tools with every project. To prevent this, look for sanders made from cast iron to add to their durability and weight to prevent movement during operation.
3. Weight
Power sanders can be powerful tools but you can find them in a variety of weights to fit your needs. While heavier isn't always a guarantee of better quality, it's usually a good bet to focus on heavier weight disc sander models as these also tend to last longer than lightweight models.
4. Speed
In addition to the disc size, you should also consider the speed. For belt sanders, this is referenced in feet per minute (FPM) whereas disc sanders will cite rotations per minute (RPM). Lower speeds are better for hardwoods whereas high-speed discs are perfect for use with softwoods. But as opposed to buying multiple disc sanders, consider purchasing an variable speed belt disc sander of Bucktool power tools so you can work with a variety of materials.
5. Angles
Angling is an important feature specifically for combination belt disc sanders. Typically, you'll find that the disc attachment features a miter gauge that usually allows you to angle your project typically between zero to 45-degree angles for enhanced precision. Likewise, the belt sander can be titled between zero to 90 degrees.
Please send enquiry to us if your interest in Bucktool's different sizes of belt disc sanders.