Belt Disc Sander 4 x 36 in.Belt and 6 in Bench Sander BD4603

BUCKTOOL Belt Disc Sander is easy to polish all of the jagged edges and splinters on your wood and lumber and make it smooth. It is an idea for fine wood sanding & polishing.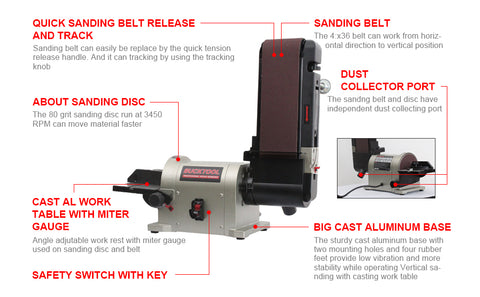 Powerful motor
This sander was directly driven by a 3/4 HP induction motor, the motor provides enough power for small and large sanding operations on various materials.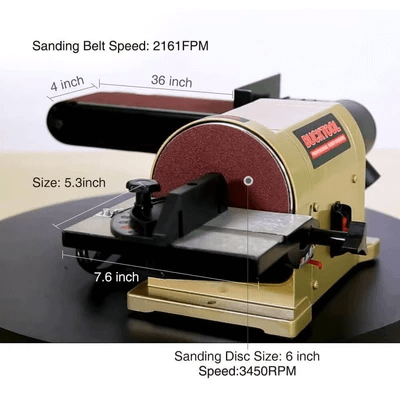 Angle Adjustable
Angle adjustable work table with miter gauge can be used on both sanding disc and sanding belt. The sanding belt tilts up to 90 degrees vertical.

Maintenance Free
This sander use no belt, no gear, so you don't have to adjust the cog belt tension, change damage cog belt like before.

Stable base
The sturdy cast aluminum base with two mounting holes and four rubber feet provide low vibration and more stability while operating

Horizontal&Vertical Sanding
The belt can work at the horizontal or vertical position, the big casting aluminum worktable can also be used on the belt side, adjustable from 0-45° degree

Extra Support
A strong metal rod was assembled to support the sanding belt when heavy loading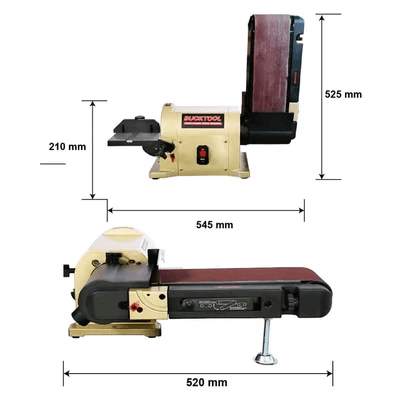 Directly driven
The sanding belt was directly driven by the 3/4 HP induction motor, 25% sanding efficiency increase than the traditional design.
And no need to worry about replacing the driving belt again!