Part Seven
Blade Selection
Selecting blades for your project depends very much on the wood type and thickness that you are using. Thicker, denser woods tend to require larger blades; a 1/2%" (13mm) slab of wenge (a very hard wood) will require a larger, tougher blade than the same thickness of pine (a softer wood).For blade sizes, smaller numbers indicate smaller blades; a #1 blade is tiny and a #9 blade is large. The most popular blade sizes for projects like the ones in this book are #3,#5, and #7 blades. I often cut up to 1" (25mm)-thick wood using a #5 blade; it is my blade of choice when cutting trivets, plaques, and coasters. I recommend that you try various blade sizes and types to see what works best for you.
I recommend either skip-tooth blades or reverse tooth blades. Skip-tooth blades (A) are a good choice for cutting thicker wood. Every other tooth is removed, therefore creating less friction and reducing burning of the wood when cutting. Reverse tooth blades (B) have a small section at the bottom of the blade where the teeth are facing up instead of down. This means that they cut not only in a downward motion but also in an upward motion, leaving a cleaner, smoother finish, which means less sanding for you.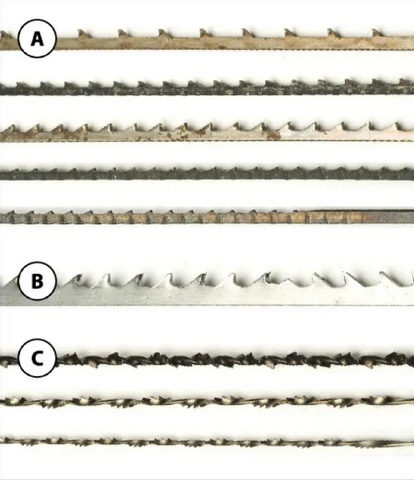 Examples of skip-tooth (A), reverse tooth (B), and spiral (C)y blades
Simplified profiles of skip-tooth (A), reverse tooth(B), and spiral (C) blades
You can find these kinds of blades produced by popular brands such as Olsen, Niqua, Flying Dutchman, Pegas, and Delta, to name a few. These blades will have a kerf on one side, so they will wander left or right when cutting; plan your cuts accordingly and do not fight the pull to left or right. Work with it. I personally like the Modified Geometry blades made by Pegas.
(Switzerland), as there is no kerf to pull left or right, therefore allowing the blade to cut perfectly straight. Modified Geometry blades cut more aggressively, though, so it may take time for you to get accustomed to them.
For most of the patterns , I do not recommend spiral-tooth blades, as they will not leave a clean finish. Spiral-tooth blades (C), with their teeth on all sides, are great to use for wavy lines, such as in the Butterfly Plaque (here), but not for straight lines. l do a lot of portrait cutting and use spiral-tooth blades for that application, but I rarely use them for trivets, plaques, or coasters when even cuts matter for aesthetics and a quality finish.
There are several other types of blades for scroll saws that have different features and applications; examples include standard tooth blades, double tooth cut blades, two-way cutblades, crown-tooth blades, and more. Because I do not recommend the use of any of these blades for the projects in this book, I won't cover them in detail here, but if you prefer using any particular blades, feel free to see if you like their result when creating your trivets, coasters, and plaques.