Part Twelve
 l designed the Bultterfly Plaque with the intention of hanging it on our garden shed .For this purpose, I cut it out of 1"(25mm)thick cedar and sprayed it with three coats of clear exterior-grade gloss varnish. if you are making any project for the outdoors, I suggest that you refinish it over time, since it will be affected by weather, UV light, rain, etc. i love how this plaque accents our shed and garden. During the winter months, it hangs inside our house on our living room wall.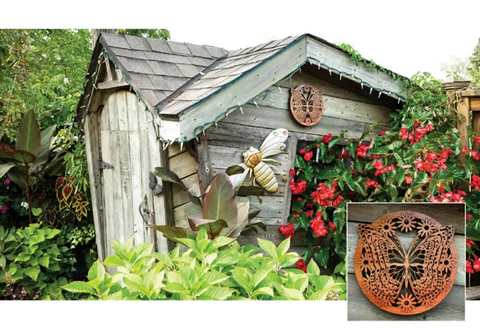 A project with thick uncut areas, like the Shamrock Trivet, is good for beginners, but you'll still have to pay attention to the little bridge areas in this particular pattern. The finer the detail, the more risk for breakage, especially if the piece is dropped or bumped.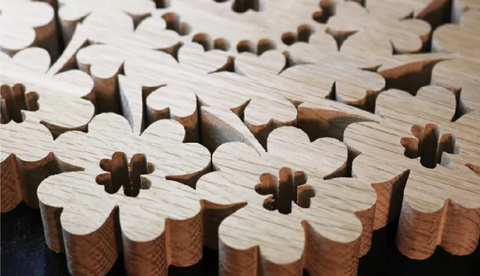 When cutting lines from a fret like in the fish tail in the Angelfish Bowl Trivet/PIaque, pay special attention to backing the blade out of each line and then into the next .Forcing a blade out through the line may cause breakage to the section you are working on.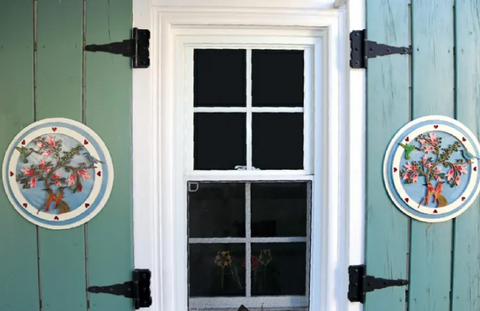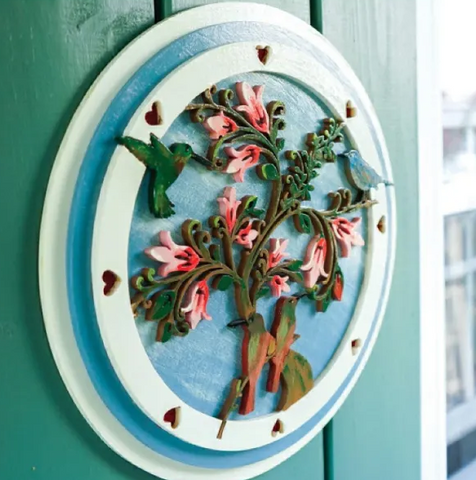 The Summer Love Plaque is shown here on exterior window shutters. l made these out of 1/4"(6mm)-thick Baltic birch plywood , then applied acrylic paint colors. I spray coated them with three layers of clear exterior-grade gloss varnish. This is a sheltered area, meaning that there is not much of an issue with rain or heavy weather, so the Baltic birch plywood works well, but where there is heavier weather , consider using cedar, pine, or even feak. These woods weather well when painted and coated with exterior-grade varnish.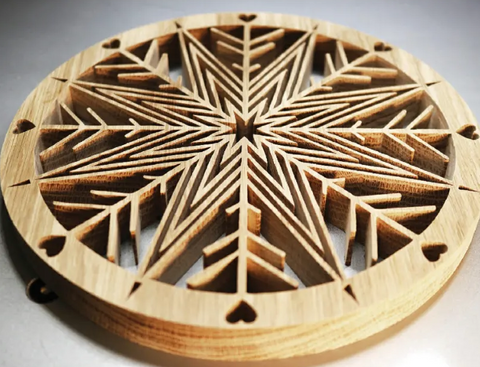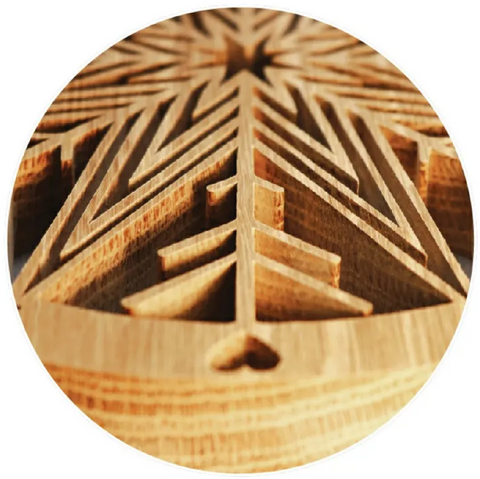 One aesthetic choice you can make is to use wood pieces with strong , visible grains like this piece of 3/4""(19mm)thick oak used for the Starflake Trivet. I prefer oak over most other woods, mainly because of the availability in my area, but many hardwoods can be used. I also love the wood grain that is often available when using oak. The grain adds a very nice texture and is visually pleasing.