Part Two
Last time I took you to understand some technical terms, this time I took you to understand the tools needed to make a garland.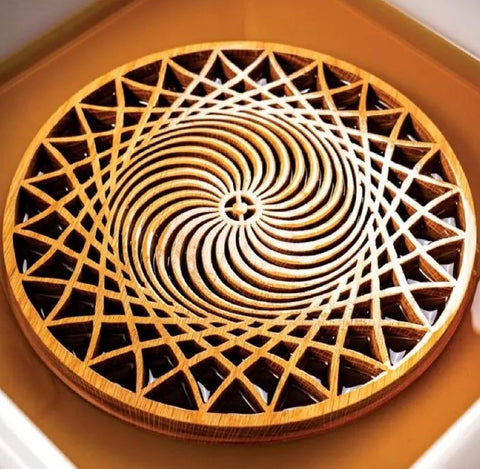 There are several tools you'll need to complete the projects and create clean, durable, useful items. If you are a beginner scroller who is unfamiliar with any of the tools listed here, more detail about each one follows, including my personal recommendations for sizes and brands (where applicable). Each tool can be purchased at your local home improvement store.Not all these tools are essential for creating the projects (see the individual descriptions to learn which ones you can do without), but the nonessential tools will make your life easier, so if you have the money to invest, I recommend acquiring them all.
- Scroll saw
- Table saw,radial arm saw ,or sliding compound saw
- Bench sander
- Palm sander
- Electric hand drill or drill press
-Drill bits (3/64"[1.2mm] and 1/16"[1.6mm] or #56 [ 1.2mm ] and #52 [ 1.6mm ], and larger)
-Various blades: #3-#5 skip-tooth and/or reverse tooth (manufacturers of choice)brand that I recommend.
- Assorted needle files (optional'
- Compressed air (optional)
- Painter's pyramids (optional)
- Scissors
- Assorted paintbrushes
- Soft cloth
- Tack cloth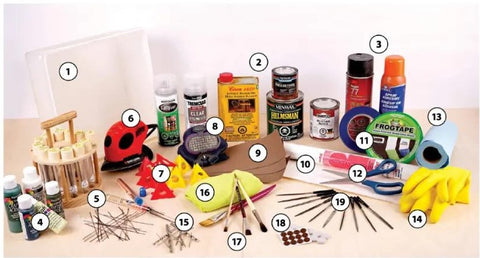 This is tools and supplies l use to prepare, cut, and finish my fretwork projects(excluding the larger machines like the scroll saw and drill press): plastic bin for oil (1); oil and various varnishes (2);spray glue(3); acrylic paint (4); various scroll saw blades (5);:palm sander (6); painter's pyramid cones (7'; mask (8);sandpaper in assorted grits (9); removable contact paper (10); painter's tape (11); scissors (12); shop towels (13);plastic gloves (14 ); various drill bits ( 15); tack cloth (16); various paintbrushes (17); stick-on protector (felt) pads (18);needle files (19).