A scroll saw consists of a work tabel with a blade running through the center. This saw requires either a space on your work table or a stand of its own. The blade is attached to the saw both below the work table and into the arm extended out above it.

One of the best things about scroll saws is that they can do inside cuts. All you need to do is drill a hole into the middle of the area that needs to be cut out and insert the blade through it. Then, reconnect the blade to the saw and readjust the tension to get it going.

A plunge cut lets you cut out the center hole of material without having to cut through the material itself. This type of cut is one of the biggest benefits of a scroll saw when you're doing intricate designs. The outer part stays intact, which means it's less likely to break even after you cut the material.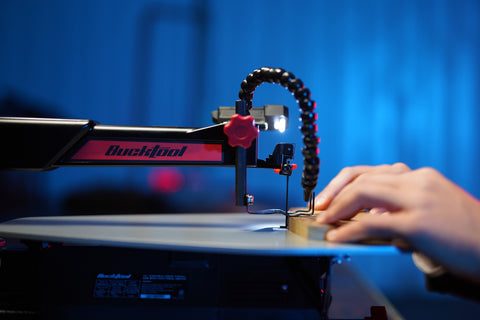 Something to keep in mind about a scroll saw is there's a limit to the size of material it can cut. You should always consider the throat size when using this saw, which is the measurement of the space between the blade and the back column of the saw. This distance is actually half of the total width that the saw can handle because, to reach the other half, all you have to do is turn the material around and approach from the other side.The cutting surface of the blade faces away from the rear column, so the material moves toward it as you cut.
You should also keep in mind the thickness of the material. You can purchase different blades for a scroll saw but most are usually most effective on materials under 1-inch thick, especially if you're planning an intricate design.

when you need very intricate and precise cuts, a scroll saw is your best bet. It's built for making clean cuts in thin materials and creates lines that are so precise you may not even have to sand the edges. One example of a project that a scroll saw is perfect for is making a wooden jigsaw puzzle. Not only does it cut the lines clean, but they're also made precisely enough so that they fit back together perfectly.

A scroll saw is best for craft and decorative projects because it gives the user a lot of control and makes very detailed designs much easier to pull off.

Remember when you could make intricate and artful cuts? Let the good times scroll with the Bucktool's scroll saw. And because it's a Bucktool product, your scroll saw comes backed by a one-year warranty, a stocked inventory of replacement parts, and a friendly customer service line, all to make sure you remember Bucktool.