Description
Product Description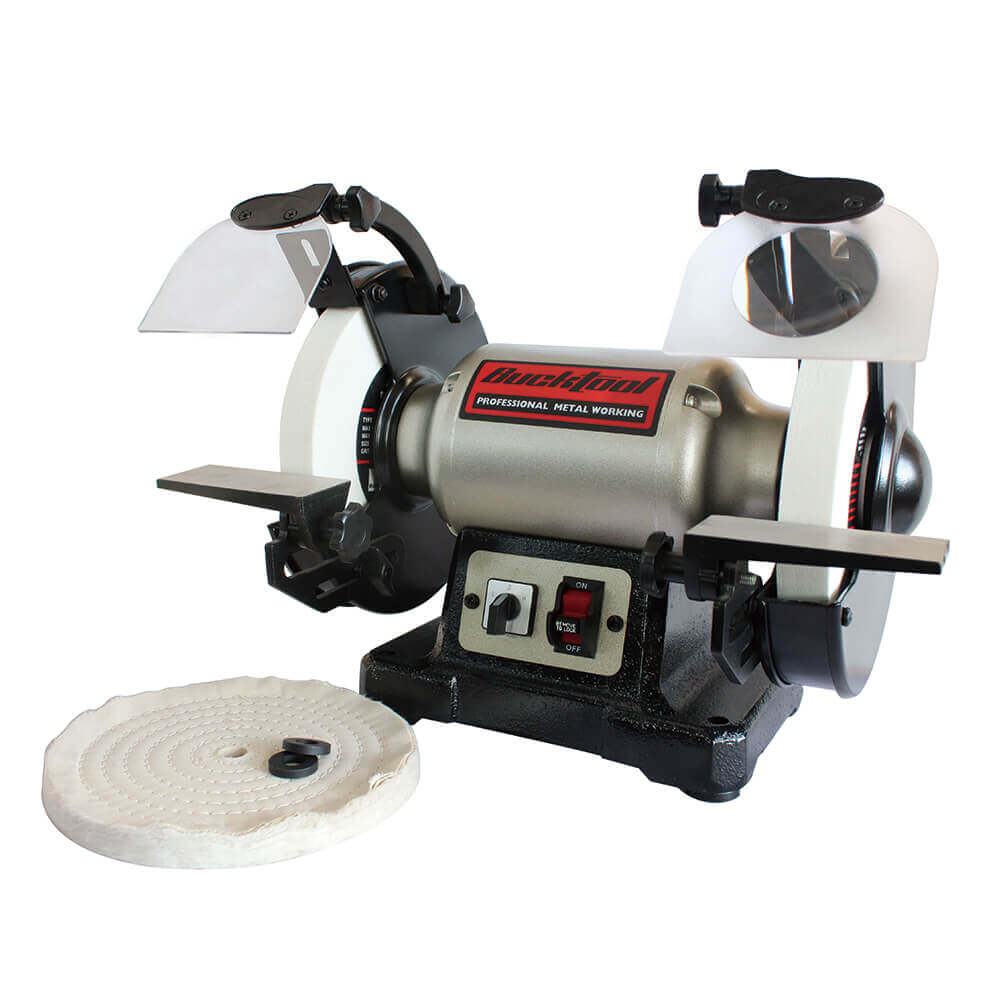 120V, 60Hz, 2.1/3.1Amp motor
Wheel Size:8x1x5/8 Inch
Wheel Grit:80#/120#
Motor Speed:1725/3450RPM
 High precision flange
The flange was made by machined powder metal that can greatly improve the balance of the grinding wheel.
3 Times magnifier eye shield
Position and angle adjustable eye shield with 3 times magnifier for flexible and precision grinding.
Dual speed switch
Change the speed from 172 to 3450 RPM by simply turn the dual speed switch L to H.
Luxury angle adjustable work rest
The two pieces of cast aluminum work-rest can be adjusted for wheel wear and accurate angles.
Model No.
 

TDS-200C4HL

Amperage

4.0 Amps

Wheel Size

8*1*5/8 &1-1/2"

Wheel Speed

1725 RPM

Wheel Grit

60#/120#
Bucktool TDS-200DS 8-inch bench grinder
All-around solid machine
Well built, smooth running, and relatively quiet. Love the 2-speeds. Sturdy enough to not need bolted down for light jobs.
NICE
I had a little trouble with this grinder but the company was right behind the machine and they replaced it right away.
It is a nice grinder for light grinding of tools and such. I use it for my metal lath and wood lath tools works great.
The low speed is nice to work with you have more control over your tools and they do not get hot as fast.
The tool supports work great and are easy to adjust. It is a very nice machine at a good price.
Seems to be a very good value for the money
The machine is solid, heavy and well packaged, so no breakage. Operation is smooth and quiet. It comes with two white wheels (80 and 60 grit if I recall). Balanced with no wobble.
Reading reviews from other products pointed out areas to be aware of but frankly I have no issues. This machine meets or exceeds my expectations, so far. Haven't used it much yet but did sharpen a lathe knife to try it out and I'm happy. Would recommend this product.
Turners: Start Grinding!
Looking for an 8" slow speed bench grinder to sharpen my lathe gouges, I considered the popular Rikon model. Reviews showed a lot of variance on quality, so I dug a little deeper and found this BUCKTOOL model. I'm a very pleased with my choice. Here's why:
- it is heavy, cast iron
- the height of the base allows for mounting the OneWay Sharpening jig without adding a riser - it is already the PERFECT height (6 1/4" to the center of the spindle/axle)
- the Aluminum Oxide wheels that came with it are very good quality and pre-mounted, vibration free
- my Woodturners Wonders CBN wheel fit on the axle perfectly (once I removed the wheel guard) - but, make sure you purchase the Woodturners Wonders optional machined washer set ($6.75, sometimes on special)
- Motor is powerful enough to spin up the heavier CBN wheel without struggle
- Two speeds, low and regular, gives you more grinding options for non-lathe tool grinding
The photo shows the grinder as I configured it, replacing one Aluminum Oxide wheel with the new CBN wheel, mounted with the OneWay Wolverine sharpening jig.
To top it all off, I had a payment issue with my initial order and a representative of the company promptly resolved the issue, refunding me the price difference within a day. You cannot beat that!
Go and grind with this bench grinder!
Payment & Security
Payment methods
Your payment information is processed securely. We do not store credit card details nor have access to your credit card information.
---
Security